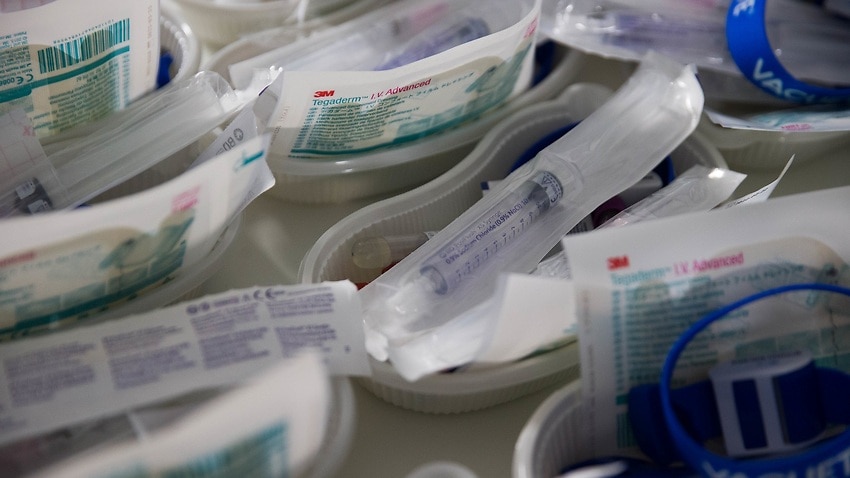 The Federal Government is urging Australians against taking coronavirus testing into their own hands after imported faulty kits were intercepted at the border.
Attorney-General Christian Porter says Australians should be wary of any test kits sourced beyond GPs, saying authorities are doing their best to crack down on imported COVID-19 test kits that produce "inaccurate results".
"We are aware of it and trying to stop it as best we can at the border by checking, not in a routine way, but a targeted way," he told reporters in Canberra on Sunday.
"But the people who have any lack of certainty about the source of a test they may have had, or purchasing online or through the post, don't do that.
"Do not take testing into your own hands at this point of time because we know that importation of tests involves also the importation of faulty and even dangerous tests."
Home Affairs Minister Peter Dutton said imported, dodgy "home" COVID-19 tests kits could pose a serious risk to public health.
Where are we at with a coronavirus vaccine?
He warned using these kits would undermine the vital, lifesaving work of health professionals.
"Inaccurate results could prevent people from seeking the medical help they need, or alternatively, discourage people who should be self-isolating from doing so," Mr Dutton said in a statement on Sunday.
He said the Therapeutic Goods Administration has ruled the tests kits as unapproved medical devices.
"Our ABF officers at the border are on alert for any unauthorised or homemade COVID-19 products and they will continue working day and night to ensure these dangerous goods don't make it into Australian households and communities," Mr Dutton said.
The ABF intercepted a consignment of 200 units that originated from China and arrived in Perth as air cargo via Singapore on 16 March.
Similar detections have now been made in Perth (50 units) on 23 March and Melbourne (39 units) on 27 March, both originating in Hong Kong.
Mr Dutton said the only approved tests for COVID-19 in Australia are laboratory-based tests or tests that can be used by health professionals at the point of care such as in hospitals or clinics.
People in Australia must stay at least 1.5 metres away from others and gatherings are limited to two people unless you are with your family or household.
If you believe you may have contracted the virus, call your doctor (don't visit) or contact the national Coronavirus Health Information Hotline on 1800 020 080. If you are struggling to breathe or experiencing a medical emergency, call 000.
SBS is committed to informing Australia's diverse communities about the latest COVID-19 developments. News and information is available in 63 languages at sbs.com.au/coronavirus
Additional reporting: AAP