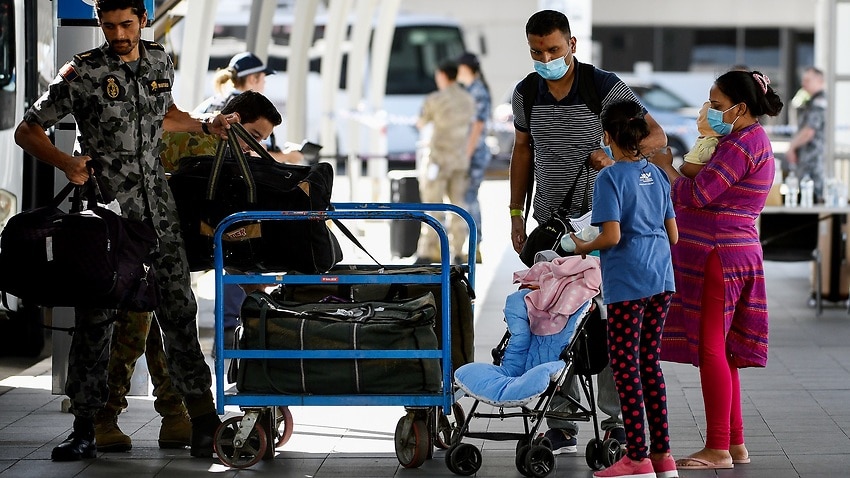 Four Qantas flights are being arranged over the next fortnight to bring home Australians from the Indian cities of Delhi, Mumbai and Chennai.
That is on top of a flight scheduled to depart Delhi tonight.
Foreign Minister Marise Payne says facilitating the return of Australians stranded overseas has been a mammoth task.
"This has been one of the largest consular challenges Australia has dealt with," she said in a statement.
While most of the evacuation flights have departed from four key international hubs – London, Hong Kong, Los Angeles and Auckland – Minister Payne says 35 flights were organised for Australians in more inaccessible regions under lockdown.
"Australians in India have faced particular challenges given the country-wide lockdown imposed there. Our High Commission in India has so far assisted over 3,500 Australians to leave, with another Qantas flight departing Delhi this evening."
In total, 16,500 Australians have been evacuated from overseas with the help of the government and brought back to Australia, including around 6,500 from cruise ships.
Australians in the Pacific islands of Fiji, Kiribati, Samoa and Vanuatu were brought home using a combination of private charter flights, ADF-facilitated humanitarian flight and commercial flights.
The first ever Nepal Airlines flight to Australia brought home 231 Australians.
In Latin America, an ANZAC Day flight returned 167 Australians and 14 New Zealanders to Melbourne.
A group of 112 Australian and New Zealand passengers from the Greg Mortimer cruise ship – including many who had tested positive for COVID-19 – were brought back to Australia from Uruguay with the support of cruise ship operator Aurora Expeditions.
From South Africa, 255 Australians were transported from Cape Town to Perth. Another 187 Australians were flown from Johannesburg to Melbourne.
The Department of Foreign Affairs and Trade says since the coronavirus outbreak began in January, travel advisories have been updated more than 1,600 times.
People in Australia must stay at least 1.5 metres away from others and gatherings are limited to two people unless you are with your family or household.
If you believe you may have contracted the virus, call your doctor (don't visit) or contact the national Coronavirus Health Information Hotline on 1800 020 080. If you are struggling to breathe or experiencing a medical emergency, call 000.
SBS is committed to informing Australia's diverse communities about the latest COVID-19 developments. News and information is available in 63 languages at sbs.com.au/coronavirus.